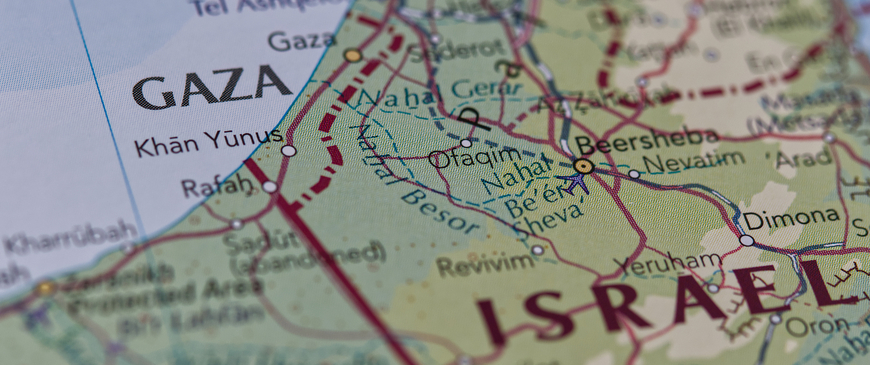 Europe and the Gaza conflict
Europe is divided on the Israel-Hamas conflict and has few good options to deal with it. But Europeans won't be able to escape the conflict's consequences. 
Europe's response to the conflict between Israel and Hamas has been chaotic. In the immediate aftermath of the massacres of Israeli civilians carried out by Hamas on October 7th, the EU's Commissioner for enlargement, Olivér Várhelyi, unilaterally announced that the EU would cut its aid to the Palestinian Authority, sparking a spat with other Commissioners and public rebukes by member-states. Attention has also focused on Commission President Ursula von der Leyen's unconditional support for Israel during her impromptu visit to the country. Her initial unwillingness to call on Israel to respect international humanitarian law in its fight against Hamas contrasted sharply with the approach of other EU leaders such as High Representative for foreign policy Josep Borrell, and irked many, both in Brussels and in EU capitals. 
Europe's response to the conflict between Israel and Hamas has been chaotic.
On October 15th, EU leaders agreed a common position emphasising "Israel's right to defend itself in line with humanitarian and international law" and affirming "the importance to ensure the protection of all civilians at all times in line with international humanitarian law". But disunity continues to bubble underneath the surface, and it remains to be seen whether the EU can stick to a united position. 
Much of the debate on Europe's role in the conflict has focused on internal dynamics in Brussels and in national capitals. But that has hidden the fact that more internal coherence would not remedy Europe's lack of good options to deal with the conflict. First, the EU has no leverage to negotiate the release of the hostages abducted by Hamas and Palestinian Islamic Jihad. Europeans are not particularly well placed to be mediators. They have less influence than the Americans with Israel, and Turkey, Egypt or Qatar are much better placed than the EU to liaise between Israel and Hamas, whether on releasing the hostages or on a hypothetical ceasefire. 
Second, little that the EU says will have a meaningful impact on Israel's choices on how to conduct operations against Hamas. The Israeli response will be primarily determined by domestic public opinion, military considerations and by the degree of political and military support that the US provides. Only Washington has a chance of persuading Israel that many of its actions are counterproductive, and that carrying out a ground invasion of Gaza carries huge risks and may not succeed in eliminating Hamas. 
Third, it is unclear whether the EU can do anything to persuade Egypt to open its border and allow Gazans to seek shelter on its territory. Egypt is concerned that the disorderly entry of hundreds of thousands of people could create a security risk, turning the Sinai peninsula into a haven for terrorists and therefore creating the grounds for future Israeli strikes on Egyptian territory. At the same time there is also a concern that if Palestinians evacuate Gaza, Israel will not allow them back. 
While Europeans have limited influence on the immediate course of the conflict, they will still be affected by it. Much hinges on Israel's next moves. A ground invasion of Gaza would carry a huge risk of expanding the conflict, pushing the Iran-backed Hezbollah to enter the war from its base in Lebanon and destabilising that country. Israel could also decide to pre-emptively strike Hezbollah, precipitating the same outcome. The conflict might further inflame the West Bank, weakening the Palestinian Authority, sparking additional Israeli operations and destabilising Jordan, particularly if the fighting pushes civilians to flee there. 
Even if Israel does not launch a large-scale ground offensive, the situation in Gaza will not be much better, following the heavy bombardment of recent days. Egypt would struggle to cope with an influx of refugees, but public pressure may eventually force it to open its border if the conditions in Gaza worsen much further. Hezbollah might feel it has to enter the conflict anyway as the number of civilian casualties in Gaza grows. In Iraq there would be a heightened a risk of extremist groups carrying attacks against NATO forces serving in the training mission in the country. And the longer the fighting goes on, the higher the public pressure on Muslim leaders who have forged considerable ties to Israel, like the UAE or Morocco, to re-assess these. 
Iran's response to the conflict will be a major variable in determining its regional consequences. Like Hezbollah, Iran has threatened retaliation against Israel if it launches a ground invasion of Gaza. An Israeli offensive would therefore not only risk drawing Hezbollah into the war, but could also set off an escalation in the Gulf. Even if that did not happen, Iran's role in funding Hamas means that the war will severely strain the US-Iran détente that had emerged in the last few months. The US has denied Iran access to $6 billion that it had unfrozen as part of an agreement to release prisoners. Biden will be under intense domestic pressure to increase enforcement of US sanctions on Iranian oil and cut Tehran's oil exports. Iran may well decide to redouble its efforts to develop a nuclear weapon, calculating that it has little to lose and that the US is distracted. 
The war's impact on European countries should not be underestimated. As the conflict continues and the civilian death toll in the Gaza strip climbs, divisions between countries and within them will deepen. Some leaders, like Spain's Pedro Sanchez or Labour's Keir Starmer, will have to work hard to navigate internal divisions in their parties or coalitions, and their popularity could suffer. More broadly, a perception that European countries are favouring Israel is likely to fuel extremism, potentially sparking a new wave of terrorism within Europe. Some EU states, like Italy, are already re-imposing internal border controls, and others are likely to do so, leading to an erosion of the Schengen border-free area. Nativist anti-immigration sentiment and Islamophobia within many countries is likely to grow, boosting the popularity of parties such as Germany's Alternative für Deutschland or France's Rassemblement National. These same political forces would be strengthened if the fighting sparked an influx of refugees from Gaza or from other countries in the region.
The war's impact on European countries should not be underestimated.
The conflict in Gaza will also have significant repercussions for global politics. The main question is whether the war will distract America from supporting Ukraine. American officials have strenuously denied that this will happen, arguing that the US can handle both conflicts at the same time. Ukraine and Israel largely need different kinds of military support from Washington. Biden is attempting to tie support for Ukraine and Israel together in a package expected to be worth around $100 billion, but it remains to be seen whether this will persuade enough Republicans to approve it. Even if the package is approved, however, war in the Middle East is likely to divert substantial US political and diplomatic attention from Ukraine. Indeed, Washington will need to pay attention and spend resources not only in dealing with the fighting in Gaza, but also to address the myriad of broader problems that the war could create or exacerbate in the Middle East. And the US also needs to maintain the ability to deter a Chinese invasion of Taiwan.
At the same time, the perception that European countries, and the West more broadly, are unwilling to do much about Israel's violations of international law as it tries to degrade and potentially neutralise Hamas has already fuelled the common narrative that the Europeans are hypocritical and guilty of double standards in how they approach different international conflicts. Western diplomats will struggle to fight back against such accusations, as the West's stance on the Israeli-Palestinian conflict has always been a lightning rod for anti-Western sentiment. Russia, which has not condemned Hamas and has called for a peace process, will probably benefit, as rallying support for Ukraine in international fora and particularly among Arab states is likely to become more challenging. 
The Middle East is likely to divert substantial US political and diplomatic attention from Ukraine.
While Europeans can do little to affect the course of the conflict, they can help prevent some of its worst consequences from materialising. Working with partners in the region and the US to try to restrain Israel and to persuade it to resume water and power supplies to Gaza, and providing humanitarian support through Egypt, will help prevent large-scale loss of life. Increased political and financial support for Israel's neighbours will help them deal with the spillover of the conflict. European countries that have deployed military forces to the region, such as the UK, are contributing to deterring Hezbollah from intervening in the conflict. While the statements and rhetoric of European leaders may not have much of an impact on the conflict, they will shape the consequences of the war within Europe. And, while Europe can probably do little to persuade sceptical countries that it is not acting hypocritically in the conflict, it can do more to address the concrete grievances that many of them have, for example on development support.
One day, the current bout of fighting will end. However, the underlying question of how to solve the Israeli-Palestinian conflict will not have disappeared. Europeans will have to rethink their approach to the conflict, shedding the assumption that they can essentially ignore it. 
Luigi Scazzieri is a senior research fellow at the Centre for European Reform.