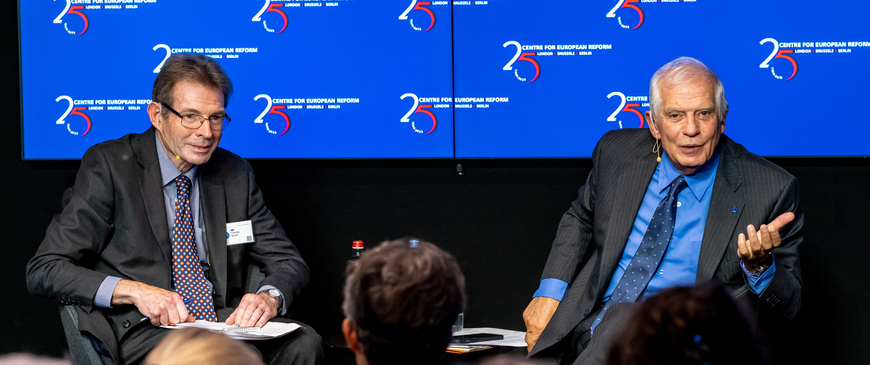 Conference on 'Europe and the world' with Josep Borrell Fontelles & CER 25th birthday reception
The Centre for European Reform's annual Brussels conference, followed by a drinks reception to celebrate our 25th birthday. 
Welcoming remarks by Charles Grant, Director, Centre for European Reform
Discussion on 'How can Europe navigate an era of geopolitical rivalry?'
For decades, the EU defined itself as an economic and normative power, its security largely underwritten by the US, and its regulations widely adopted across the globe thanks to the 'Brussels effect'. But that world is disappearing in the rear-view mirror. Vladimir Putin's invasion of Ukraine poses a formidable challenge to European security and underlines Europe's continuing dependence on fossil fuels. Rising tensions between the US and China are fragmenting the global economy and forcing Europe to choose whether to keep advocating for open and competitive markets or accept the new reality of increased protectionism and potentially wasteful subsidies for tech and green industries. How can Europe navigate this more threatening geopolitical environment? Can the power of the 'Brussels effect' survive in a polarised world?
Carl Bildt, Co-Chair, European Council on Foreign Relations Board & former Prime Minister, Sweden
Alicia García Herrero, Chief Economist for Asia Pacific, Natixis
Heather Grabbe, Senior Fellow, Bruegel
Jacob Funk Kirkegaard, Senior Fellow, German Marshall Fund of the United States & Peterson Institute For International Economics
Mark Leonard, Director, European Council on Foreign Relations
Chair: Ian Bond, Director of Foreign Policy, Centre for European Reform
A conversation with Josep Borrell Fontelles, High Representative of the Union for Foreign Affairs & Security Policy
Chair: Charles Grant, Director, Centre for European Reform